The Scenario
Alright, so you've set up a Facebook page for your business but you really aren't seeing any results. You've gotten a few likes for your new page, but it really hasn't done anything for your business. Why?
Well, the issue is that Social Media is a lot like a high school dance. Getting dressed up and going doesn't mean that you are going to make an impression. In fact, that's what happens to most Facebook pages. The owner's dress them up and they end up standing over in the corner watching everyone else dance.
To get involved, you have to, well, get social. You have to actually go out on the dance floor and show them what you've got. Good or bad, you'll be noticed.
The Case Study
Take the example of the Filling Station Thrift Store. Established in March 2013, the thrift store's goal is to raise money for Kids Against Hunger. It's a great cause and word of mouth has started to bring in customers. The owners had set up a Facebook Page for the store and had reached 70 likes. But they felt that they weren't really getting their message out.
Smoky Mountain Marketing set up a test case to see what would happen if we posted one status update a week along with some pictures of items for sale in the store.
Starting on June 7th, a status update was posted each Friday (prime thrifting days) along with some pictures highlighting various items in the store.
The Results
Looking at the status update below, one thing immediately sticks out. In the first update on June 7th, Facebook tells us that 250 people saw this post. How is that even possible if the page only has 70 Likes?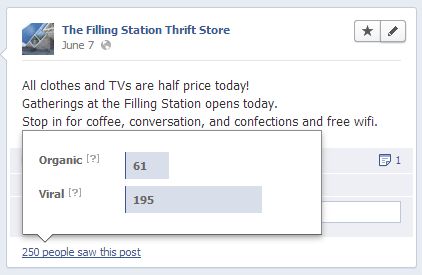 That is where the power of social media starts to become evident. Looking closely at the right side of the image, you'll see one person shared this status update on their wall. Because that one person shared, an additional 195 Facebook users saw the thrift store's update.
Looking at the other two status updates, we see that on June 15th we had 3 shares and reached 597 people. And, on June 21st, we reached an additional 347 people.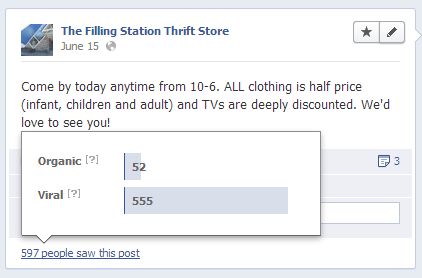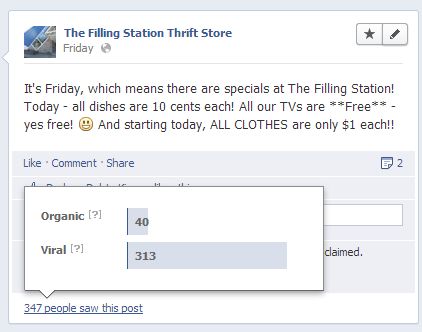 So, just how much potential do we have for viral marketing in social media? According to Facebook, this simple thrift store with only 70 likes has the potential to reach over 20,000 Facebook users!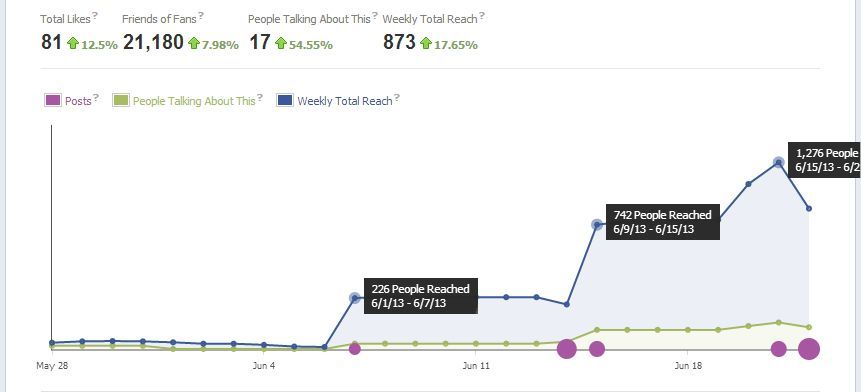 Let's delve deeper by looking into Facebook Insights (Facebook's internal statistics tracking system). Take a look at image above (click to make it larger). Looking in the upper left corner we can see that page now has 81 likes. Those 81 fans of our target page have a total of 21,180 friends. Additionally, we can see the reach of the page over time going from almost nothing to over 1,200 at it's peak.
Next Steps
So, what should you do with this information? Get out on that dance floor! Yes, you might make some missteps but it sure beats hanging out against the bleachers.
Be sure to leave a comment and tell us your success stories.