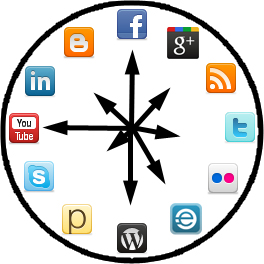 Oh come on! You've just spent countless hours crafting the ideal Tweet with just the right mix of ironic humor and business savvy and you've got zero retweets. Or you've posted the perfect Facebook status update and you've got 1 Like (from mom) and 0 comments.
What's going on?
Well, it could be that you've posted at the wrong time. Every social network has periods during the day where most people check in to see what is going on. Miss those times and your post could get buried underneath the rush of status updates, pins and tweets.
Facebook
Facebook is definitely the king of social media and generates a monstrous amount of traffic. The best time to post is between 1pm and 4pm. Wednesdays are especially busy. Posting after 8pm or on a weekend? Your clever status just might reel in zero results.
Bonus Facebook Tip – With recent changes to Facebook, you can now use Facebook Insights to see when your fans are online.
Twitter
Twitter moves fast. At times it can feel like drinking from a fire hydrant. Even so, there are definite times when Twitter hits its peak. Traffic starts building around 11am Monday through Friday and starts to fade around 3pm. Once again, the weekends tend to be slower so try to avoid Tweeting after 3pm on Fridays.
Pinterest
If Facebook is the king of Social Media, Pinterest is an 800 pound gorilla. Pinterest came crashing into social media in 2010 and is currently experiencing faster growth than any other social media network.
Pinterest is completely different than other social media networks. Because of that difference, the ideal times for Pinning are a bit different. There's still the typical mid-afternoon rush between 2pm and 4pm. Things rev up again after 8pm and stay active until after midnight. As a bonus, weekends are busy too.
Google+
Google+ leans more towards the tech crowds and reaches its peak between 9am and 11am.
LinkedIn
LinkedIn is the place for business professionals. Peak times are early morning between 7am and 9am and late afternoon between 5pm and 6pm.
Final Thoughts
It probably sounds a bit impossible to get it all right without abandoning work for several hours throughout the day. But there are several very useful tools to help you automate posting to social media. Drop us a line and we'll help you figure out the best options for your business and your schedule.
Infographic (via Social Caffeine)